Silent and long-lasting : our best seller rollers!
The new RO series rollers are now available as standard products.
They complete the range of items with 87 Sh.A soft polyurethane coating and top quality polyamide 6 hub, already present in the catalogue with the AS series wheels.
Thanks to its formulation, designed and produced within our plant in Italy, the LAG's blue polyurethane has excellent elastic properties that reduce the noise generated by vibrations, do not mark the flooring and ensure a very high resistance to cutting and tearing.
Another novelty is that the RO rollers can also be assembled with watertight stainless steel precision ball bearings.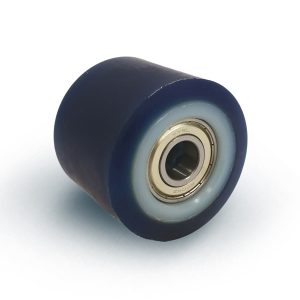 Their high resistance to chemical agents combined with the stainless steel ball bearings, make this article perfectly suitable for sectors that require high hygiene standards, such as the food, chemical and pharmaceutical industries.
Check out all the specifications of LAG's RO series rollers.